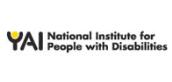 Sherri Shepherd Named YAI Spokesperson

The YAI Network has a new spokesperson! Sherri Shepherd, an Emmy® Award-winning co-host of ABC-TV's "The View," has enthusiastically agreed to help spread the YAI Network's mission to a wider audience. She is eager to help us spread public awareness about the needs and abilities of people with developmental disabilities.
"YAI is a place where they care, they love, they nurture and they want to keep doing it," Sherri said.